Our seasonal Food Truck runs from April through November. The menu at this friendly, outdoor location offers a variety the following:
An 'AWARD WINNING' Vegan Burger! (Taste of Woodstock 2014 'Best Main Course') as well as an ever changing variety of Grilled Personal Pizzas, Local Corn on the Cob, Salads, Spinach Poppers, Sausage & Peppers, Po'Boys, Seitan Cutlets, Meatballs, Carrot Franks & Knish, Spinach Pies, Cabbage Rolls, Classic Hummus, Falafel Burger Buddies, … Beverages, Snacks, Desserts and MORE!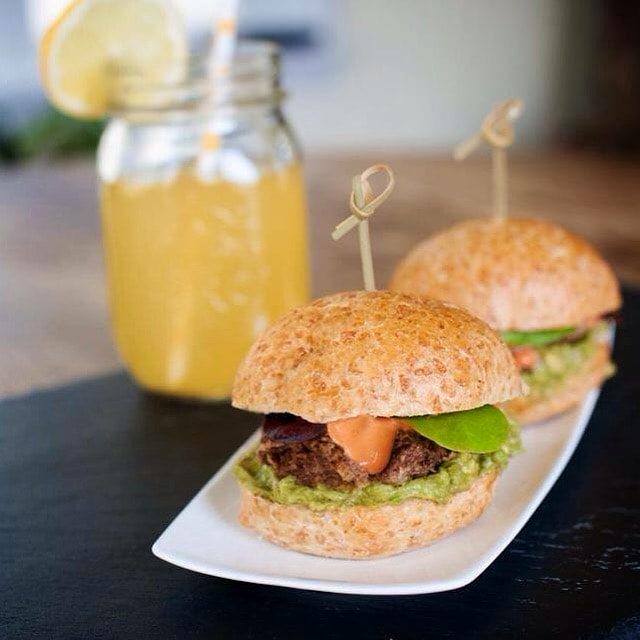 DID YOU KNOW?
OUR FOOD TRUCK IS AVAILABLE FOR HIRE!
Our 6×8 mobile kitchen is the perfect attraction for any event.
Learn More
OUR 8O'S THEMED FOOD TRUCK MENU:
Start Me Up:
Served with a Smile
"80's Poppers"
House-made baked brown rice, spinach & cheeze bite sized delights
"Purple Rain"
Mesclun spring mix, cherry tomatoes, carrots, sunflower seeds, pumpkin seeds, shredded purple cabbage, lime basil vinaigrette
"Twisted Sister"
NYC style salted pretzel
"Just Can't Get Enough"
Mashed potato in a crispy crust aka Coney Island Knish
"Walk like an Egyptian"
House-made creamy hummus w/warm pita or raw carrots
"The Three Amigos"
Rustic crostini topped w/bruschetta and mango salsa
"Welcome to the Jungle"
Grape leaves stuffed w/rice, herbs & spices
"Corn in the USA"
​Freshly harvested sweet corn on the cob grilled to perfection
​
"Bizarre Love Triangle"
Baked mini pies stuffed with spinach and onions
"Walkman"
Saucy eggplant baked in a roll
"Cabbage Patch Kids"
Cabbage stuffed w/rice, herbs & spices cooked in a tomato broth
Thrillers:
Served with Veggie Chips and Pickles
"It Takes Two"
House-made twin burger sliders 
w/choice of: a
vocado spread & house special sauce
​or s
weet BBQ sauce & 'bread & butter' pickles
 "Frankie Goes to Hollywood"
House-made carrot frank seasoned to excellence. Topped 
w/choice of: f
ermented sauerkraut, ketchup & mustard or
 ketchup & mango salsa
"You Spin Me Round"
Personal pizza 
w/San Marzano tomato basil sauce, mozzarella and fresh basil. Add on: various toppings
"Robbie Dupree"
House-made sliders w/romaine lettuce, sweet bread & butter pickles, Choice of: Russian dressing or BBQ sauce on a baguette
Add on: a
vocado and/or mozzarella!
"Abe Froman"
House-made Italian style seitan sausage topped
w/peppers and onions on Italian bread
"Space Balls"
House-made meatballs drenched in house-made tomato basil sauce on a baguette.
Add on: mozzarella!
"The Breakfast Club"
House-made cashew cream cheese, house-made golden beet lox, tomato, red onion, capers on an everything bagel
"Let's Hear it for the Boy"
House-made oat & walnut meat Po' Boy! Topped w/lettuce, tomato, pickles and vegenaise on crispy French bread.  Add on: avocado and/or cheeze!
"Moonstruck"
House-made breaded and baked seitan cutlets drenched in house-made tomato basil sauce on a rustic Italian bread
LET US CATER YOUR NEXT EVENT
Salads
Mixed Greens or Romaine
Tomatoes with Red Onion & Oregano
Spinach with Sunflower Seeds & Walnuts
Dressings: Italian, Lime Basil Vinaigrette, Tahini Sauce, Fresh Lemon & Olive Oil
Pastas
Ziti, Penne, Rigatoni
with: Garlic with Olive Oil, Marinara, Bolognese, Peas/Onions, Seasonal Veg
Mains
Stuffed Artichokes
Meatball Parmigiana
Eggplant Parmigiana
Stuffed Sweet Peppers
Sausage with Peppers and Onions
Pepper & Olive Oreganato
Appetizers
Spinach Poppers
Stuffed Mushrooms
Stuffed Mini Peppers
Raw Veggie Platter with Hummus Dip
Grains
Quinoa
Basmati Rice
Israeli Cous Cous
Sides
Broccoli Rabe, Roasted Potatoes,
Broccoli, Sweet Potatoes, Sautéed Kale,
Baked Carrots and Fennel
Desserts
According to season
ORGANIC
no synthetic pesticides, herbicides, fungicide, radiation,
chemicals or sewer sludge. Support sustainable farming
​practices and your health by choosing organic.
NON-GMO
an organism whose genetic material has NOT been artificially manipulated
in a lab through genetic engineering. Say NO to GMO!
VEGAN
no animals products or their derivatives;
no meat, dairy, eggs, fish or honey. ​Animal products have zero fiber.
Plant foods are loaded with fiber, vitamins,
minerals and antioxidants, without the cholesterol.
Be kind to our Earth and all its inhabitants!
NO GLUTEN ADDED
no wheat, barley or rye proteins.